I approached Janice Pariat's Everything the Light Touches with high hopes. Several of my friends, who are avid readers, praised it immensely, and I was looking forward to enjoying it just as much as they did. Unfortunately, the book didn't meet my expectations. While Pariat's writing style is undeniably exceptional, I had hoped for a deeper connection with the characters, and this is where my disappointment stemmed from.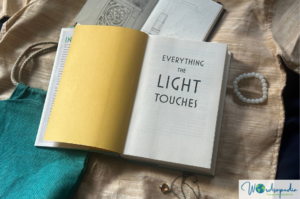 The narrative revolves around four central characters: Shai, Evelyn, Linnaeus, and Goethe. Their individual stories unfold in different times and places, intricately linked by the overarching themes of nature and travel. The tale paints vivid imagery, placing great emphasis on the significance of forests, plants, and trees, which extend beyond mere scenery; they are integral to the narrative. Botany enthusiasts would appreciate the scientific details and academic references a lot. But to me, it felt like a tedious aspect of the book.
Pariat's prose is lyrical and imbued with philosophical undertones, leaving a lasting impression. However, the narrative structure feels disjointed, with frequent shifts between narrators and timelines that disrupt the natural flow.
Despite my disappointment with the story, I've become an admirer of Pariat's writing style. The metaphors she employs are both philosophical and relatable, which I found captivating. Among the four stories, Shai's tale resonated with me the most, followed closely by Evelyn's. The others didn't quite make much sense.
Although I didn't love Everything the Light Touches as much as I wanted to, I would be revisiting it solely to annotate my favourite lines and delve deeper into its philiosophical and poetic aspects.
Wordsopedia Rating 3.45/5
| | |
| --- | --- |
| Title: Everything the Light Touches | Author: Janice Pariat |
| Publisher: HarperVia | Publication date: October 25, 2022 |
| Genre: Fiction—Literary | Format: Paperback |
| ISBN: 9780063210066 | No. of Pages: 512 |
Buy your copy here on Amazon
About the author
Janice Pariat is the author of Boats on Land: A Collection of Short Stories and Seahorse: A Novel.
She studied English Literature at St Stephen's College, Delhi, and History of Art at the School of Oriental and African Studies, London. Her work—including art reviews, book reviews, fiction and poetry—has featured in a wide selection of national magazines and newspapers. In 2014, she was the Charles Wallace Creative Writing Fellow at the University of Kent, UK, and a Writer in Residence at the TOJI Residency in South Korea in 2019.
Currently, she lives between Shillong and New Delhi with a cat of many names.
Get in touch with the author on her website.
This post is powered by Blogchatter's Book Review Program