What did you want to be when growing up? 
This interesting #BlogChatterBlogHop prompt took me on a journey deep into my past… to the time when I was a high-school student.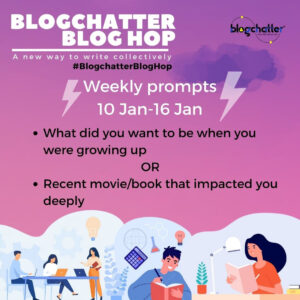 A first ranker all throughout the ten years of schooling, my grade 10 results were astounding. I had aced the exams, as always. My parents and teachers expected me to pursue science. Even the neighbours and relatives had an opinion, and it mirrored those of the other adults around me.
But my dreams were different.
It's not maths or physics that held me glued. English literature and history were my true loves.
Books were my best friends. Like other kids of my generation, I grew up devouring Nancy Drew, Hardy Boys, Amar Chitra Katha, etc. But I wasn't just a reader. I wished to be a writer too. But sadly, my love for English got buried under those confusing mathematical problems.
The other dream I held close to my heart was to become an archaeologist. I loved history. Stories of ruins, forts, and ancient temples kindled my curiosity. I would take countless trips to the past. I didn't need a time machine. Books and my wings of imagination took me everywhere.
Books took me to the intriguing Mohenjo-Daro, Ahom empire, and even Kala Pani, where I spent time in prison with brave hearts who fought for our motherland's independence. Other times, I was in the fort of the mighty Chatrapati Maharaj, or deep down south in the sprawling temples of Madurai or Tanjavur.
I would spend hours dreaming and imagining the queens and kings holding courts, young princesses engaged in warfare, or learning scriptures in lush forests filled with danger.
Unfortunately, in those days, kids from middle-class families were expected to become doctors or engineers. There was no discussion about it. And I too succumbed to the pressure.
Finally, it is now, in my forties, that I have reclaimed my lost loves.
Writing, once a passion, has now become my profession. As a published author, content writer, and blogger, I have rediscovered myself. It has helped me carve a name for myself and filled my life with meaning and immense happiness.
My love for words has helped me reconnect with history as well.
It's too late in the day to make a career from the ruins, but that hasn't stopped me from exploring history. Reading historical fiction and non-fiction has helped me take flight once again on the wings of imagination. In 2022, I read 8 historical fiction books. These books took me to the slave plantations of Virginia, Nazi Germany, the Palestine war, and even the Ugandan genocide.
I wonder where words will take me this year! Wherever it is, I am sure it would be an exciting journey.
This post is part of BlogChatterBlogHop