Dust Child by Nguyễn Phan Quế Mai is my first time reading a book set in Vietnam. I wonder why I never picked up a book written by a Vietnamese author, despite having visited this beautiful country so many times and being in love with many aspects of it! Anyway, there's always a first time, and I am thrilled I've begun my journey into Vietnamese lit with this beautiful book.
I have already added The Mountains Sing by this author to my TBR and hope to read it soon.
Dust Child is a thought-provoking and emotional story of the aftermaths of the decades-long Vietnam War. Quế Mai narrates the story across multiple timelines, alternating between the present (2016) and the past (1969). Trang and Quỳnh, two sisters from a rural village, Dan, a troubled US Army vet, and Phong, an Amerasian child of an African American soldier and a Vietnamese woman, are the main narrators.
Trang and Quỳnh move to Sai Gon and work as bar girls to support their parents and repay their debt. American GIs frequent these bars, and these bar girls are supposed to flirt and drink with them and ensure the men buy more drinks. Despite her younger sister's protest, Trang falls in love with Dan, a good-looking and kind helicopter pilot. Her dreams are shattered when he abandons her, especially when she needs him the most.
50 years later, Dan revisits Vietnam, along with his wife, Linda. He hopes to find closure and a way to rectify his wrongs. He is severely affected by PTSD and struggles, as memories haunt him every moment of his life. The city is bustling with life, and yet, he finds remnants of war everywhere. The couple hires a tour guide to take them around the city. While Linda wishes to explore the city as a tourist, Dan has a secret motive. He wants to find Kim, a bar girl he had impregnated decades ago.
Sai Gon is filled with Amerasians born to U.S. soldiers and Vietnamese women. Known as bụi đời, the "dust of life," these children have been abandoned by their parents and are scorned by society. Phong is one such Amerasian who wishes to find his father and move to America so that his family can lead a better life.
Dan and Linda's character initially appears to be affected by the 'white saviour syndrome,' but as the story progressed, I could appreciate their motives.
I was confused at the way Phong's story was running parallel to Dan's and Trang's and was pleasantly surprised when it reached a point where the three stories converged. Ah, what a stunning revelation! I did not see that coming at all.
This book is an example of storytelling at its best. It is well-researched, honest, beautifully written, and as close to reality as possible.
This character-driven story draws strength and direction not just from the main protagonists, but even from the minor characters. There's not a single character that is not portrayed to perfection. It's impossible to not feel their pain. I was literally choking up while reading this emotional saga.
Though the story is about war, it is not all hopeless. The author shares little snippets that show that we humans are capable of doing better. She has addressed various themes in the book. Though war, killings, and trauma are the central themes; rape, prostitution, abuse, abandonment, racism, and prejudice are a few of the other serious issues she has incorporated into the story.
Dust Child occupies a place of pride on my ever favourites shelf. I cannot recommend this book enough! I rarely give 5 stars to any book. But I could easily give a million stars to this immersive and memorable novel.
This blog post is part of the blog challenge hosted by Random Things Tours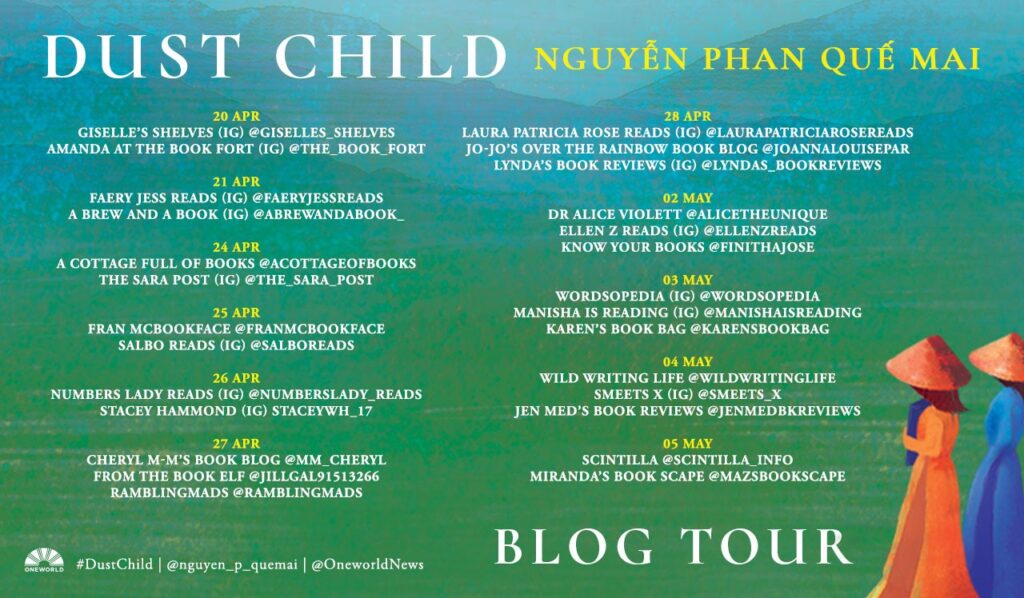 Wordsopedia Rating 5/5
| | |
| --- | --- |
| Title: Dust Child | Author: Nguyễn Phan Quế Mai |
| Publisher: Oneworld Publications | Publication date: March 14, 2023 |
| Genre: Fiction—Historical | Format: eBook |
| ISBN: 9780861545414 | No. of Pages: 352 |
Buy your copy here on Amazon
About the author           
Born and raised in Việt Nam, Nguyễn Phan Quế Mai is the author of the international bestseller THE MOUNTAINS SING, runner-up for the 2021 Dayton Literary Peace Prize, winner of the 2020 BookBrowse Best Debut Award, the 2021 International Book Awards, the 2021 PEN Oakland/Josephine Miles Literary Award, and the 2020 Lannan Literary Award Fellowship for Fiction.
She has published twelve books of poetry, fiction and non-fiction in Vietnamese and English and has received some of the top literary prizes in Việt Nam, including the Poetry of the Year 2010 from the Hà Nội Writers Association. Her writing has been translated into twenty languages and has appeared in major publications, including the New York Times. She has a PhD in Creative Writing from Lancaster University. Quế Mai is a tireless advocate for the rights of disadvantaged groups in Việt Nam and has founded several scholarship programs. She was named by Forbes Vietnam as one of 20 inspiring women of 2021.
Get in touch with the author on her website.