Chai Time At Cinnamon Gardens by Shankari Chandran is an immersive story addressing war, genocide, racism, family, love, and friendship, among a few other themes. I was tempted by the beautiful cover, and was delighted to find the story to be equally captivating!
Cinnamon Gardens, a family-run retirement home in western Sydney, forms the backdrop of the story. Maya, a Sri Lankan native, is the owner of this place. A feisty author who writes romantic novels under a pseudonym, she is full of vigour even in old age. Her tragic past is the source of her strength. A daughter of a learned Tamil scholar, she fled from Sri Lanka in the 80s along with her husband Zakhir to escape the civil war. They restart their lives at Cinnamon Gardens. They devote themselves to transforming this place, and it becomes a home to many seniors. Despite being in Australia, the home and its gardens are steeped in Sri Lankan flavours, right from the food to the trees in the garden.
Decades later, in the mid-2000s, Maya's daughter, Anjali, takes over the reins of Cinnamon Gardens. Zakhir is missing, and his last known whereabouts place him in Sri Lanka. Anji's husband, Nathan, is a local school counselor who takes care of their children and helps her with running the nursing home. Nikki and her husband, Councillor Gareth, are amongst their closest friends. While everything appears to be fun on the surface, dark undertones of tension and tragedy are swimming right underneath.
A series of unfortunate events plummet the retirement home into the spotlight with allegations of racism towards white Australians. It triggers traumatic memories for the residents and brews hatred in the community. The nursing home and its residents face vandalism, a lack of public apathy, and an unexpected tragedy.
The story is narrated by five different characters and involves a dual timeline–the present and the past. Five of the main characters act as narrators, sharing their respective stories. Each voice is justified and the stories are well portrayed. Both timelines are vital to understanding the various complex themes. The present timeline, set in Australia, involves Maya and Anji's current life in Sydney, while the past takes us right into the heart of the Civil War in Sri Lanka. Chandran has incorporated details of real incidents that happened during the genocide of Sri Lankan Tamils.
The novel's strength lies in its well-sketched characters. There is a mix of major and minor characters, and all of them play their part to perfection. There is a finesse in their portrayal, and their backstories are well-narrated and believable. Maya, Anji, Ruben, Nathan, and Guna are a few of my favourite characters.
I haven't read any other books by this author, and I have fallen in love with her writing style already! The vernacular usage made my reading experience more enticing. It is impossible to not feel the character's pain and trauma. This is one of those rare books where I loved almost all the characters.
Colonialism, displacement, domestic violence, prejudice, trauma, the tragic loss of a child, and political rivalry are a few other major theme threads holding the story together. The author doesn't shy away from the harsh truths and narrates them without making them seem like a lesson in history.
This is the third book I have read that is set in Sri Lanka and revolves around the Civil Wars. I loved both my previous reads – The Seven Moons of Maali Almeida by Shehan Karunatilaka and Funny Boy by Shyam Selvadurai.
Chai Time At Cinnamon Gardens is an unforgettable read. Highly recommended!
This book is part of a blog tour organised by Random Things Tours.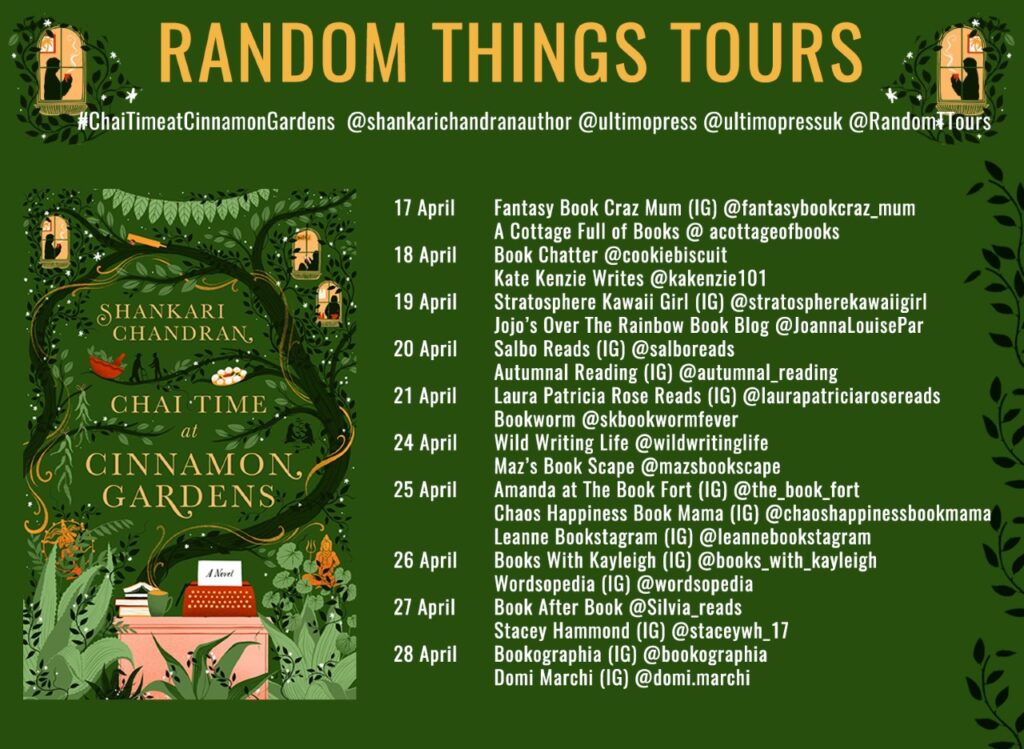 Wordsopedia Rating 4.4/5
| | |
| --- | --- |
| Title: Chai Time At Cinnamon Gardens | Author: Shankari Chandran |
| Publisher: Ultimo Press | Publication date: January 1, 2022 |
| Genre: Fiction—Contemporary | Format: Kindle |
| ISBN: 9781761150319 | No. of Pages: 384 |
Buy your copy here on Amazon
About the author
Shankari Chandran was raised in Canberra, Australia. She spent a decade in London, working as a lawyer in the social justice field. She eventually returned home to Australia, where she now lives with her husband, four children and their cavoodle puppy, Benji.
Get in touch with the author on her website.