I am thrilled to be a part of the book tour organized by BookBot.
Today's spotlight is on The Nigerian Mafia: Mumbai by Onyeka Nwelue.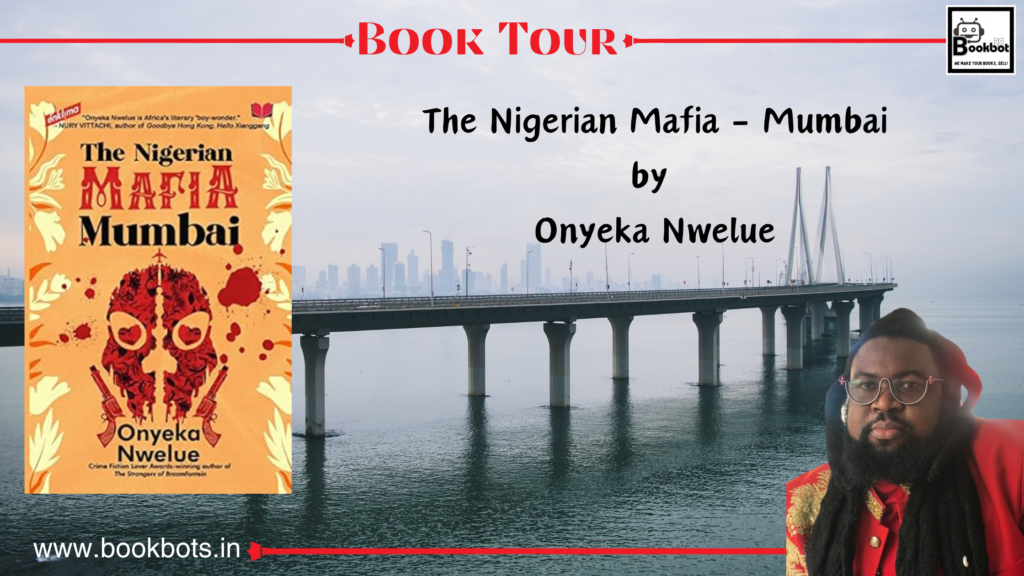 Book Blurb
Nollywood actor, Uche Mbadiegwu, leaves his Surulere neighborhood in Lagos, to Bandra in Mumbai to join Bollywood, so he could make it big, hoping to play exceptional roles.
Like a flash, Periwinkle appears in his life and changes everything. Tired of living in a pigsty, Efemena wants to live a life of independence, but there is more to being a Nigerian in Mumbai – a constant escape from the Indian police and narcotics agents.
This novel is a tale of violence, drugs, human trafficking, murder, and sex.
| | |
| --- | --- |
| Title: The Nigerian Mafia: Mumbai | Author: Onyeka Nwelue |
| Publisher: Abibiman Publishing U.K. | Publication date: April 4, 2023 |
| Genre: Fiction—Crime Thriller | Format: Paperback |
| ISBN: 9781739276775 | No. of Pages: 230 |
Buy your copy here on
Amazon India | Goodreads | Amazon US| Amazon UK | Waterstones | Abe Books |
Amazon AU | Bookshop
About the author
Onyeka Nwelue, born in 1988, is a Nigerian scholar who has had esteemed positions in academia in African studies at two of the world's most prestigious universities, the University of Oxford and the University of Cambridge.
His crime fiction, "The Nigerian Mafia: Mumbai," is the first installment in a 10-book series, which has gone on to be longlisted for the 2023 Chinua Achebe Prize and shortlisted for the 2023 ANA Prose Prize. It's being developed for film by Indian filmmaker Ramesh Raparthy.
Get in touch with the Author here – Website | Twitter | Instagram
Praise for Onyeka Nwelue
Described by Sri P. T. Narendra Menon as "one of Africa's youngest writers," Onyeka Nwelue's unique writing style and brilliance has earned him critical acclaim. With over 20 Award-winning books to his name, Nwelue stands as one of Africa's most prolific and promising writers.
Praise for the book
Onyeka Nwelue is Africa's literary boy-wonder."

Nury Vittachi, Author of Goodbye Hong Kong, Hello Xianggang
An unusual noir thriller and worth a look for those interested in seeking crime tales based in
other countries.

Run Along The Shelves
The Nigerian Mafia: Mumbai, was an interesting portrait of an expat group of Nigerians
abroad!

Annabel
Accolades
• The Nigerian Mafia: Mumbai has been longlisted for the 2023 Ana Chinhua Achebe Prize.
• It is also shortlisted for the 2023 Ana Prose Prize.
• The Nigerian Mafia Mumbai is being developed for film by Indian filmmaker, Ramesh
Raparthy